Hi Huneybees,
Hunger Games
last week and till today I am still fascinated by the movie and the "Hunger Games Fever" is definitely catching on to everyone and I bet it will be a big success like Harry Potter.
One character who caught my eye would definitely be
Katniss Everdeen
played by
Jennifer Lawrence.
She's the

protagonist and narrator of the

Hunger Games trilogy

. After her sister,

Prim

, was chosen to participate in the

74th Hunger Games

, Katniss volunteered to take her place as the female tribute from District 12. She was good in archery and hunting, and her true-to-herself character made her the top favourite tribute amongst the others.
From Katniss, we learned about the determination and will to never give up.
Although she is a pawn in the Capitol's sick game, she is never passive.
In the games, Katniss continues to take control of her destiny. Instead of running from the cornucopia as she was told to do, she takes the risk of going in to get a backpack of supplies. And when the game makers change the rules in a way that means either she or Peeta must die, she comes up with a way to defy them. If we can learn anything from Katniss, it's that you should never defeat yourself and believe in yourself.
The more I watched the movie, the more I fell in love with Jennifer Lawrence. Her natural beauty shone and makeup that was kept to minimal on her, showed her flawless skin and youth. *I think I'm in love with her!*
played by Susan Pevensie
. Not sure is it because of the archery reference, but when I Googled, they do have a little resemblance. Agree?
Jennifer Lawrence
looked so familiar, so who she is? And yes, after "asking" my trusty friend,
Google
, I found out where I've seen her before! She was
Mystique
in
X-Men: First Class! No wonder the gorgeous face and body!
Jennifer Lawrence has a very versatile style and seriously, she seems to look good in everything, coloured or plain, hair up or hair down, light natural makeup or heavy shadow makeup always works for her. Here are some pictures of her I found on Google. Ain't she gorgeous?
Jennifer Lawrence in a

Prabal Gurung

dress.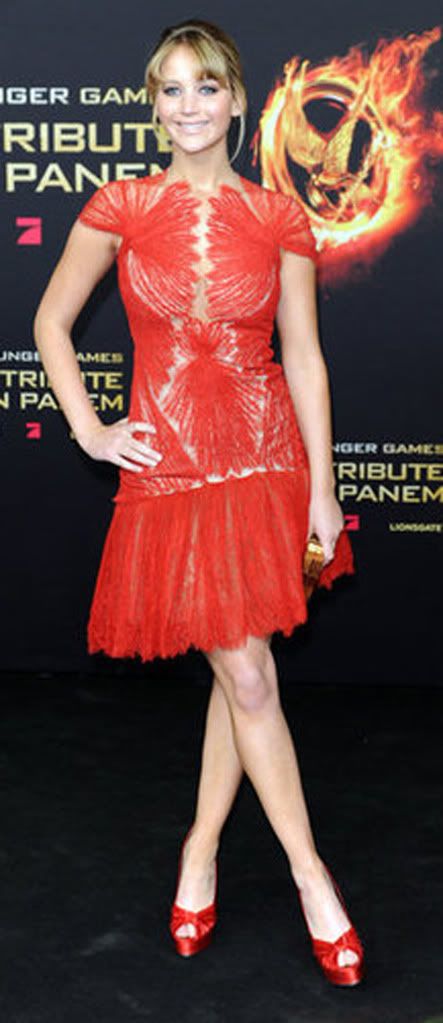 Marchesa

dress for a Berlin appearance,
And yes guys, I found photos of her in Esquire magazine. Woots!
Jennifer Lawrence
Jewel
Kate Hudson
Renee Zellweger
So, have you caught Hunger Games yet? Here's the official trailer for you...